Что? Где? Когда? Зимние Каникулы в Ванкувере
2011-11-06
ALBERTA BALLET - THE NUTCRACKER
Find tickets at ticketmaster http://www.ticketmaster.ca
Location: Queen Elizabeth Theatre ~ 649 Cambie Street,Vancouver
ALBERTA Ballet's Nutcracker *** It wouldn't be the holidays without The Nutcracker. Alberta Ballet's production with choreography by Edmund Stripe and sets and costumes designed by Emmy Award-winning designer Zack Brown, "…sparkles like a Fabergé egg..," says the Vancouver Sun.
DECEMBER 29,30, 2015 • Performances at 7:30 pm

DECEMBER 30, 31, 2015 • Performances at 2:00pm
Prices start at $26.50-$120
For more information visit http://www.balletbc.com
Goh Ballet's the Nutcracker
Find tickets at ticketmaster http://www.ticketmaster.ca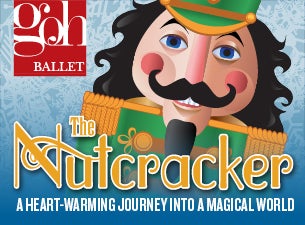 Location:The Centre For Performing Arts Tickets
777 Homer St., Vancouver, BC
Each year, the Goh Ballet celebrates the holiday season with a production of the family must-see – The Nutcracker. A fairytale ballet, the story is treasured by children and adults alike, weaving a tale full of magical surprises, and enchanting dance moves.
Dec. 17th, ,18th, 19th , 20th, 21st,& 22nd at 7:30pm
Dec. 19th at 2:00pm
Dec. 20th at 3:00pm
Prices:$28, $32, $51, $69, $83
For more information visit http://gohballet.com
ЁЛКИ 2014
Список коллективов, которые организовывают Ёлки для детей . Ниже их афиши на предногодний сезон и отдельно по ссылке : Ёлка 2015 - Новогодние представления города
Русский театр-студия «Палмэ» ( Купить билеты / узнать более подробно: http://palmestudio.com )
Open World for Kids (Купить билеты / узнать более подробно: http://openworldforkids.com )
Благотворительное Новогоднее Представление ( Узнать более подробно : Новогоднее представление.сом (778)-344-3700 или (604)-335-7377 )
Новогоднее Приключение Кота в Сапогах ( Купить билеты / узнать более подробно: www.domvits.com )
**Full list of 2014 Christmas Events in Greater Vancouver
Please visit "Veture Vancouver.com" for very detailed information on all locations and dates:http://www.venturevancouver.com/2014-christmas-events
Some info on events around Vancouver, North Vancouver , Burnaby, Surrey, White Rock, Lnagley,Maple Ridge, Port Moody, Port Coquitlam .
Candytown ~ Yaletown ~ Vancouver
The Yaletown Business Improvement Association is proud to announce the only free outdoor Christmas festival on Mainland Street in Downtown Vancouver.
November 22, 2014 , Concord Pacific presents CandyTown is kicking off the festive season with a fun and interactive weekend. Horse-Drawn Carriage Rides, Sweets, Treats, Music and Fun!
For more information : http://yaletowninfo.com/events/candytown/
Rogers SANTA CLAUS Parade
December 7, 2014 | 1:00pm (Coast Capital Savings Square: 10:30am - 1:00pm at the Vancouver Art Gallery)
Parade Route: West Georgia at Broughton Streets to Davie at Howe Streets, Vancouver (map)
Free
Watch as spectacular floats, bands and community groups parade through Vancouver with the man in red himself! | Website

Read more: http://rogerssantaclausparade.com
Christmas in Kerrisdale ~ Vancouver
Month of December
*Santa and his Elf Visit Kerrisdale ~ Every Saturday & Sunday, from Dec 7 ~12 noon to 4 pm
* Free Holiday Horse & Carriage rides December 6, 13, 20, 23 ~ 11 am - 4 pm.
* Life Music : Christmas Quartets ; Strolling Brass Band Tuba, Saxophone & More ~ Starting Dec.8th 12 noon to 4 pm every Saturday & Sunday
Free commmunity ice skate at Kerisdale Arena ( 5760 East Boulevard , Vancouver )
Gliding on Ice ~
December 21st
~ 3:45-5:30 pm .
DUNDAR Village for the Holidays ~ Vancouver
Mark Your Calendars for 2014 – Saturday, December 20th!
The sound of carollers fill the air as does the scent of hot chocolate and horses for this fabulous holiday event. Taking place in all three areas of Dunbar on the second Saturday of December, Dunbar Village for the Holidays features free horse & carriage rides, hot chocolate, carollers, and Santa's elves giving away a holiday gift from the Dunbar Village businesses.
Horse & Carriage Pick Up locations & times:
Dunbar North – in front of Tim Horton's – 10am-11:00am
Dunbar Centre – in front of Vancity – 11:30am-1:30pm
Dunbar South – in front of Gardenia Florist – 2pm-3pm
Pick up & drop off are at the same location and rides are on a loop
For more information visit www.dunbarvillage.ca
Canadian Christmas memories at Canada Place
Visit Canada Place from December 13 – 31, 2014 to enjoy Christmas in Canada undercover in the Canada Place Cruise Ship Terminal. It's your chance to share your favourite Canadian Christmas memories and make new ones. This is a free, family fun and part of the Winter Waterfront District. We're bringing all these great Canadian holiday activities to the Waterfront:
Skating Rink
Holiday Мiniture Train
Historic Woodward's Windows
Santa's Workshop
Curling
Festive performances
Location: Canada Place Cruise Ship Terminal, 999 Canada Place, Vancouver, BC
When : ***Open all weekends from 10:00 a.m. - 7:00 p.m.***
The event will run from December 13 - 31, 2014 (closed December 24 & 25)
Price: FREE
INFO http://www.christmas.canadaplace.ca
Vancouver Christmas Market~ Downtown Vancouver
Step back in time ...
Experience the Vancouver Christmas Market!
The Vancouver Christmas Market is back for its forth year on the Queen Elizabeth Theatre Plaza! Sample our new delicious food items and find your unique Christmas gift! Enjoy seasonal music and a great entertainment program of authentic folk groups!


Dates: November 22nd to December 24th
Time: 11am-9pm
Location: Queen Elizabeth Theatre Plaza
For more information visit www.vancouverchristmasmarket.com
Festival of Trees ~ Downtown Vancouver
Vancouver's Four Seasons and the Pacific Centre Mall
Festival of Trees 2013 officially launched on Wednesday, November 21, with a fabulous tree lighting ceremony at the Four Seasons Hotel. Thank you to everyone that joined us to decorate trees and celebrate the holiday season.
Dates:November 20, 2014 to January 4, 2015
Location:Four Seasons Hotel Vancouver: 791 West Georgia Street , Vancouver
COST: free
Read more on awards that were given to tree sponsors: http://www.bcchf.ca/
Gingerbread Lane at Hyatt Regency Vancouver
The most decadent lane in the city returns for the 23rd year to the lobby of Hyatt Regency Vancouver from Thursday, November 28th through Friday, December 27th, 2013. Previously recognized by the Guinness Book of World Records for having the tallest gingerbread man, Gingerbread Lane welcomes more than 20,000 visitors each year. Recognized as much more than a holiday attraction, Gingerbread Lane has raised tens of thousands of dollars for the Make-A-Wish foundation over the years.
DATE:
November 28
-
December 27
TIMES
:
9:00am - 9:00pm
LOCATION:
Hyatt Regency Vancouver: 655 Burrard Street, Vancouver, British Columbia (map)
COST
: By Donation (supports the Make a Wish foundation)
Website:
Hyatt Regency Vancouver
Bright Nights in Stanley Park~ Vancouver

Get in the spirit of the Holidays - take a train ride through our forest transformed with two million twinkling lights, see the animated displays and listen to holiday sounds as you enjoy hot chocolate, fresh popcorn and roasted chestnuts.
Dates: November 27, 2014 - January 4, 2015 (closed December 25th) | November 27th - December 18th: Mon-Thurs: 3:00pm - 10:00pm; Fri-Sun: 10:00am - 10:00pm; December 19th - 24th & December 26th - January 4th: Sun-Sat: 10:00am - 11:00pm
For more information and tickets visit http://vancouver.ca
Festival of Lights VanDusen Gardens ~ Vancouver
During December, VanDusen Botanical Garden is decorated with hundreds of thousands of lights for the Festival of Lights.
Enjoy the twinkling lights and light show, take a stroll down Candy Cane Lane, hear the sweet sounds of caroling, and get in to the spirit of the season.
Location: 5251 Oak Street Vancouver, British Columbia
Dates:December 10, 2014 - January 4, 2015 (closed December 25th)
For more information visit http://vancouver.ca/parks/parks/vandusen/
The Peak of Christmas ~North Vancouver

Celebrate Christmas atop Vancouver's highest peak with a variety of activities including skating, sleigh rides, crafts, entertainment, the SOS Children's Gingerbread Village and visit Santa and his reindeer!
Bring your family to Santa's Workshop and meet reindeer, or take a sleigh-ride through mystical alpine forest. You can also experience the tranquil beauty of skating on 8,000 square foot mountaintop Ice Skating Pond, surrounded by snow-topped trees.
Location:6400 Nancy Greene Way, North Vancouver, British Columbia
November 28 - December 24, 2014 | 9:00am - 10:00pm
For more information visit http://www.grousemountain.com
Canyon Lights at Capilano Suspension Bridge~ North Vancouver
Walk through thousands of lights and enjoy a scavenger hunt, gingerbread cookie decorating, glass blowing demonstrations, carols sung by the Holiday Band as well as the world's tallest living Christmas tree!
With a zillion sparkling lights adorning the Bridge, Rainforest AND Cliffwalk, this annual winter event ensures the holidays are merry and bright. Guests will be treated to the ultimate seasonal sensory celebration, including gingerbread cookie decorating, seasonal music from the Holiday Band, glass ornament blowing with Malcolm Macfadyen and of course, the splendor of magical twinkling lights throughout the park.
Location:Capilano Suspension Bridge: 3735 Capilano Road, North Vancouver
Dates:November 29, 2014 - January 3, 2015 (closed December 25th) | 11:00am - 9:00pm
For more information visit http://www.capbridge.com
Illuminations at Heritage Christmas at Burnaby Village Museum
& Carousel
For more information visit http://www.burnaby.ca/Things-To-Do/Heritage-Christmas
Experience the sights, sounds and tastes of a traditional Christmas with festive lights, crafts, displays, carousel rides and visit with Father Christmas.
Burnaby Village Museum's Heritage Christmas arrives with a whole new "brightness" this year. Over 24,000 lights create spectacular holiday displays to complement the traditional sights, sounds and tastes of Christmases past at the village. Gate admission to the museum is free - it is a fun, family holiday experience that everyone can enjoy. Complete each visit with a whirl on the C.W. Parker Carousel.
Location:6501 Deer Lake Avenue Burnaby, BC V5G 3T6
Daily: November 22, 2014 - January 2, 2015 (Closed December 24th & 25th) | November 22 - December 12: Mon-Fri: 1:00pm - 5:30pm*(*December 2nd: 1:00pm - 4:30pm), Sat-Sun: 1:00pm - 9:00pm; December 13 - January 2: 1:00pm - 9:00pm
Free gate admission (Carousel rides are only $2.30 each.)